photo by Howard Heckers
Roger performs with electric guitar!!
This performance of Had a Dream from Roger Hodgson is from a September 3, 2014 show in Hanau, Germany and is the first time Roger performed the song live. Had a Dream has long been a fan favorite and is frequently requested. This fun, rocking classic is from Roger's 1984 album, In the Eye of the Storm, which was called "the lost Supertramp album" by one reviewer. Roger periodically performs several other songs in concert from the album such as 'In Jeopardy', 'Only Because of You' and 'Lovers in the Wind'. This spectacular album is available directly from the artist through Roger's store at http://www.rogerhodgsonstore.com/in-the-eye-of-the-storm-cd-remastered-series/
TICKET LINKS CAN BE FOUND ON THE EVENTS TAB ON ROGER'S FACEBOOK PAGE!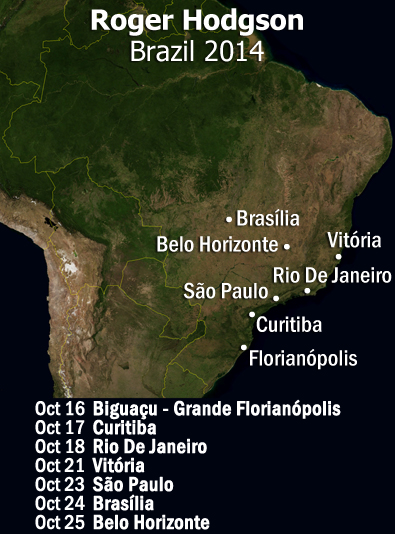 If you have been to one of Roger's concerts in 2014, Roger and his team would love to hear your comments on the show. Why not go to the guestbook page on Roger's website and share your thoughts and feelings... this page also makes a great read too!
New feature on Roger's Website!!
"When I was young, it seemed that life was so wonderful, a miracle, oh, it was beautiful, magical"
Roger's website now includes a lyrics page!
The songs Roger sings that are often referred to as Supertramp songs are songs that Roger wrote and composed alone - many of them before he met Rick Davies and co-founded Supertramp in 1969. Although Roger's songs that he recorded with Supertramp were credited Hodgson/Davies, Roger and Rick wrote and composed separately with each singing lead on their own songs.
"I have been
blessed with the gift a
n
d passion to be able to express my heart and soul through music, whether it be with an instrument, my unique voice, producing albums, or through the creative process of songwriting. Songwriting is an amazing process and feeling. For me, the music always comes first. There are usually a few lines of lyrics that come at the same time. For a two or three week period I sing the new song every opportunity I get. It's like a brief love affair; the emerging song just goes round and round in my head the whole time. It has that consuming quality to it, like falling in love. The structure and melody come to me relatively quickly - the lyric usually takes much longer." ~ Roger
You can find the lyrics to my songs on my new lyric page:
http://www.rogerhodgson.com/lyrics/lyrics.html
Thanks everyone for sharing your stories re what the songs mean to you.
Share this new page with your friends today,
and you can tweet the lyrics to your Twitter.
---
...Hello!
We are trying to get more reviews up and spread the word to more of the public about how great is Roger's In the Eye of the Storm album. Let's have some fun and spread the word around about the album and while you're at it, you can add a line or two to tell people what Roger's concerts are like. If you post a comment on Facebook, please copy and paste your comment on one or more of the links below.
1 - So, please take a few moments as soon as possible and post a review of Roger's album on Amazon in your own country in your own language.
2 - You can also copy and paste your same review onto the following links to Roger's store, YouTube video, and iTunes.
http://www.rogerhodgsonstore.com/in-the-eye-of-the-storm-cd-remastered-series/
https://www.youtube.com/watch?v=aTVkSYSo4b0
https://itunes.apple.com/us/album/in-the-eye-of-the-storm/id110449627
Share this with your friends now and let's make some new fans today!
---
Check out this great interview Roger gave... it tells a fascinating story about Roger's passion and commitment to the making of the album 'Breakfast in America'
http://www.amfm-magazine.com/icon-presents-supertramp-breakfast-in-america-with-roger-hodgson/#.U8hiYd3sgO8.facebook
---
Enjoy this montage video from Roger's YouTube Channel. All footage was taken from Roger's shows around the world last year. What wonderful audiences Roger has! See Roger live in concert this year. Many magnificent shows still to come! Details for announced shows in Europe, USA, Brazil, and Canada are on the Events tab on Roger's Facebook page or directly at:
https://www.Facebook.com/RogerHodgson/events ....or see below.
Let's see how many of y
our wonderful comments we can get on the video.
Roger and the team love
hearing from you! Leave a comment and share with others what Roger's music means to you or your experience at a show, or both! Be sure to also "like" the video while you are there ~
---
Keep in Touch!
Photo © Jan Wise